How To Send Videos, Photos With Voice Messages On Whatsapp
Today we are here with some of the most awesome messaging app "Whatsapp" and some of its task which you can do in daily basis and required by you in daily chatting. Today in this article you will get to know how to send videos, photos with voice messages on whatsapp for your own. Whatsapp is the most downloaded app from the play store in the messaging apps and mostly people love to use this app. You will love to check best whatsapp status here.
Sending video, audio and images on whatsapp
People normally loves its simple interface and very strong feature. You can easily send lots of audio, video and images with a very easy user friendly environment. It have many features in which you really like voice and text messaging, voice calling, file sending, photo, pictures and voice sending, map, audio messages and many other features which you will really love. Today we are giving you a overview of the these features so that you can use them very effective manner and you will surely love to use when you use them for you messaging work. Lets see some step by step guide which show you how to send these with the help of whatsapp.
For sending images and videos
Now let's see some steps for sending images and videos on whatsapp which will helpful for all of you to handle all these stuff over this messaging app.
Open your whatsapp account and click on the name of the person who is in your contact list to open her/his message box.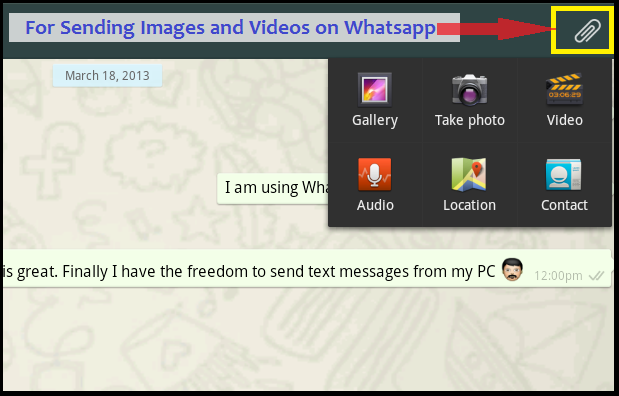 You can click on the button which is showing in the picture above.
It will open a drop down in which you will see many option like video message, audio clip, map etc. like the above seen picture (We have capture the picture after clicking the button).
In this drop down, click on the gallery option where you will see all the images and video file. It will show all the saved images in the phone.
You can select any picture and videos which is saved in various folders for sending to your contact which you clicked above.
And after that tap on the send button to send to them.
That's all the steps which you can use for sending any image and video. Buti have seen that you can only send upto 30 MB file only whether image and video.
How to send voice message on whatsapp
Let see some steps of sending voice messages on whatsapp so that after following those step you can send some voice messages to your friend.
Open the message box of your friend.
Click the space for sending message and it will open the keypad on the screen like in the picture.
You will see a mic in the right side which can be use for the sending message.
For sending voice note, you have to just hold this button of mic and speak for the recording.
Until you hold you can speak and when you want to send it you can leave the mic button and remove your finger from it.
It will send the msg to your friend.
That's all from our side where you have teach you how to send images, pictures and photos with voice messages over the whatsapp. I hope you surely like them. You will love feeling lonely and along whatsapp status as well.